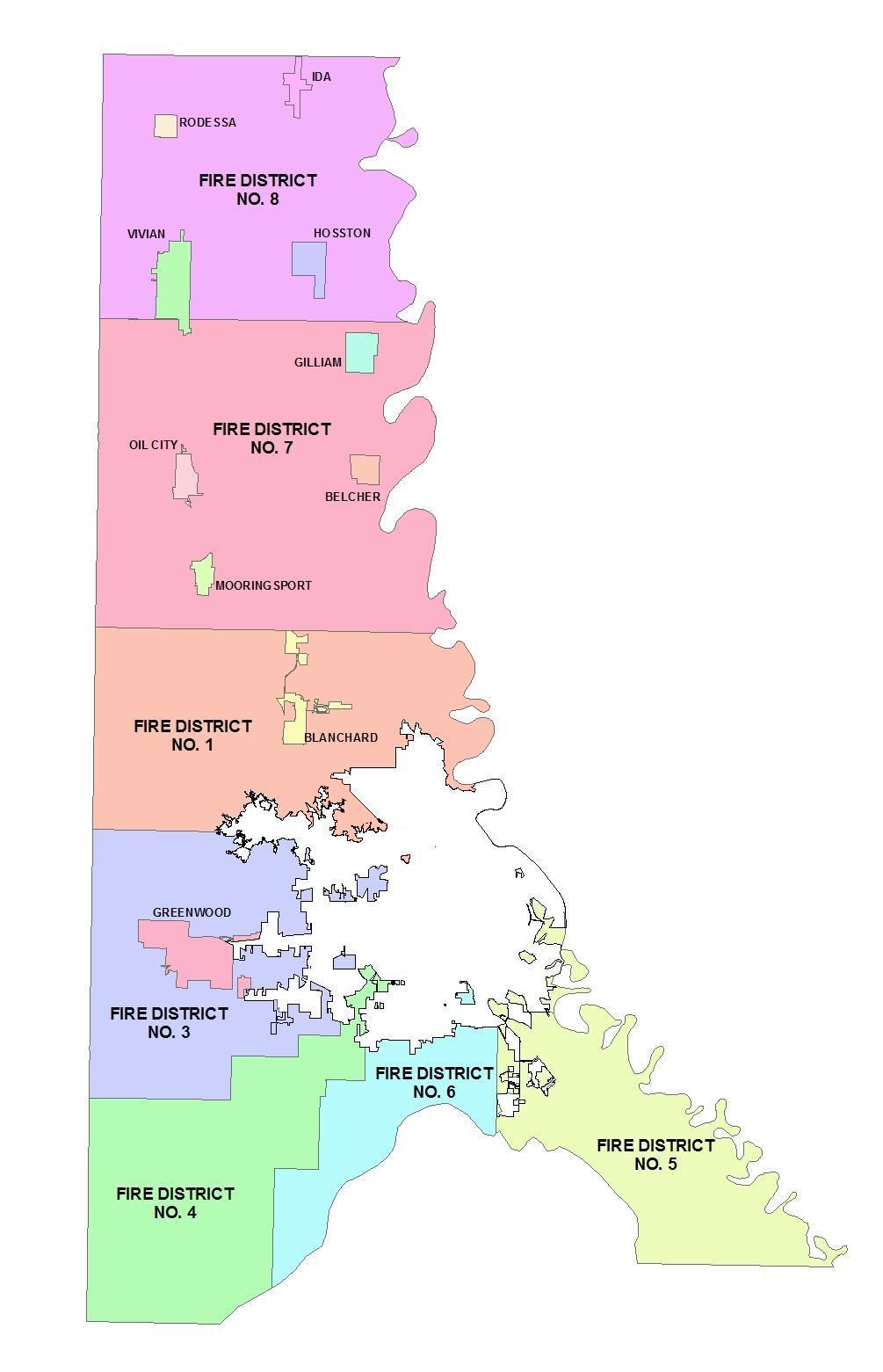 CADDO FIRE DISTRICT 4
Chief Bryant Williams
8240 Colquitt Road, Keithville, LA
6126 Colquitt Road, Keithville (Station Two)
15137 Four Forks, Keatchie (Station Three)
11714 Providence Road, Keithville, LA (Station Four)
Station: (318) 925-2200 or 925-8790 (fax)
E-mail: caddofire4@gmail.com
Introduction: Caddo Parish Fire District #4 is an incorporated political subdivision of the State of Louisiana. It is financed primarily by ad valorem taxes, parcel fees and service charges which are approved by the qualified voters of District #4. Fire District #4 is governed by a board of commissioners, which is supervised by the Caddo Parish Commission.There are five board members, who are not compensated or paid for their services.
The purpose of Fire District #4 is to provide fire protection and emergency services to residents within the jurisdictional boundaries of Fire District #4 (as outlined by the Caddo Parish Commission). Below are several facts and information about Fire District #4. For additional information, please do not hesitate to contact Central Station at 925-2200.
Coverage Area: 110 Square Miles
Number of Households: 3000 households served
Number of Businesses: 50 businesses served
District Population: 8,000 (approximately)
Insurance Rating: 4 rating
Overall Average Response Time: 6 minutes
Distance to Nearest Hospital: 12 miles (approximately)
Call Volume Statistics: Average 700 calls for service per year
Annual Budget: $400,000 (approximately)
Volunteer Statistics: 20 volunteers (approximately)

Board of Commissioners/Appointing Authority


Willie Joe Greene (Chairman)

James Robinson (Vice Chairman)

Ron Loyd (Secretary/Treasurer)

Kevin McClure (Commissioner)

Richard Watkins (Commissioner)

Full Time (Paid) Staff - Personnel Listing


Bryant Williams Fire Chief

Helen Clark Secretary to the Fire Chief

Sherre Bowers Fire Captain/Paramedic

Kevin Coleman Fire Captain/Paramedic

Freddie Martin Firefighter/Operator & EMT

Aaron Myers Firefighter/Operator & EMT-I

Adam Hall Firefighter/Operator & Paramedic

Terry Smith Firefighter/Operator & Paramedic

Types and Quantity of Equipment

(1) 2001 Chevy Tahoe Chief's Car
(1) 1999 Ferrara Tanker/Pumper (holding 1600 gals. of water)
(1) 1997 Ford Diesel Rescue Truck
(1) 1993 Ford Tanker
(1) 1989 Ferrara Tanker/Pumper
(1) 1986 Ford Pumper (holding 750 gals. of water)
(1) 1986 4x4 Chevrolet Brush Truck (with winch/holding 300 gals. of water)
(1) 1985 Dodge Salvage Truck
(1) 1985 Grumman Pumper (holding 1000 gals. of water)
(1) 1967 International Tanker (holding 1300 gals. of water)
Mutual Aid Agreements with Other Departments:
On all structure fires that could require a tanker truck and possibly additional man power, the mutual aid agreement with Caddo Fire Districts #3 and #6 is activated.
How Funding is Received:
Maintenance and Operations tax @ 10 mills, Public Improvement Bonds @ 6 mills, and a Service Charge of $100.00 per livable structure and per commercial business structure.
Full-Time Paid Employment Requirements and Hiring Process:
Unless otherwise specified, all requirements must be met by the filing deadline for application to the test. Applicants must meet all requirements of the Municipal Fire and Police Civil Service Law, including being a citizen of the United States, being a qualified elector of the State of Louisiana, and passing a civil service examination for the position. After offer of employment, but before beginning to work in this class, applicant must pass a medical examination prepared by the Appointing Authority, designed to demonstrate good health and physical fitness sufficient ot perform the essential duties of the position with or without accommodations.
Volunteer Requirements:
All volunteers must live in service area (Fire District 4). You can not be a volunteer with any other fire district. You must be at least 18 years of age and out of high school. Must be physically able to perform duties and have a valid Louisiana driver's license with own vehicle currently insured. No more than two written moving violations in the past three years are allowed and no DWI's or violations involving accidents are allowed. You must have no current criminal record. If you have a record within the past five years, your volunteer services will be at the discretion of the fire chief. After a volunteer is voted into service for the fire district, he/she will be on a six month probationary period with no exceptions. During that time, he/she must obtain at least state certified Firefighter One and/or state certified EMT and hold a current CPR certification within one year from the date of probationary status, and if state approved, classes (if provided) will be taught at Caddo Fire District #4's Central Station. You must respond to at least 10% of the calls for service that occurr within the first six months probationary period and at least 50% of the fund raisers and work sessions sponsored by Fire District #4, if hours allow. You must attend 50% of volunteer meetings within the six month probationary period unless working or family emergencies prohibit your attendance, and all volunteers must demonstrate a genuine interest. When a volunteer is taken off probation, he/she must continue to hold state certified Firefighter 1 and/or state certified EMT, as well as hold a current CPR certification during the lenght6 of their active volunteer membership. They must respond to at least 20% of the total calls every six months and 50% of fundraisers/work sessions. You must attend at least 24 hours of fire sciense training per year and at least 10 of the volunteer meetings annually unless work or family emergencies prohibit your attendance. All volunteers must continue to demonstrate a genuine interest in the welfare of the department and show a sincere willingness to help the department in any way possible.




---