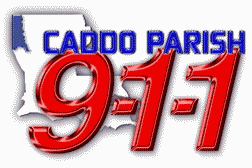 CADDO PARISH 9-1-1 SURCHARGE REMITTANCE INFORMATION
L.S.A. R. S. 33:9101 et seq., governs the Caddo Parish Communications District Number One (District). Based upon provisions of the statute, the governing authority of the District may, when so authorized by a vote of a majority of the persons voting within the District in accordance with law, levy an emergency telephone service charge in an amount not to exceed five percent of the tariff rate; however, if a district is served by more than one service supplier, then the emergency telephone service charge shall not exceed five percent of the highest tariff rate.
As a result of recent tariff rate increases, effective July 1, 2016, the rate for wireline business customers is $2.50 per month per line up to 100 lines, and the rate for wireline residential customers is $1.25 per month per access line.
Effective January 1, 2017 the rate for cellular and wireless services is $1.25 per month per line per subscriber. By statute, the communications service providers can retain an administrative fee of one-percent (1%) from the gross receipts to be remitted to the District. Remittance to the District is due quarterly by statute, however, the District would accept monthly payments if desired. All payments should be made to:
The Caddo Parish Communications District Number One
1144 Texas Avenue
Shreveport, Louisiana 71101
Additionally, to assist your company in providing all of the required subscriber information for remittance purposes, a sample form, in PDF format, may be found at Remittance Form . This sample outlines the desired format for remittance of the 9-1-1 surcharge fees to the District. (PDF format allows you to view your form electronically on most computers. The freely available Adobe Acrobat reader is required to view and print PDF files. To download a free copy of Adobe Acrobat reader, click on the icon below.) Please contact the Caddo Parish 9-1-1 Administrative Offices at (318) 675-2222 for assistance with any technical questions you may have regarding the provisioning of 9-1-1 service through the tandem for your customers.

---